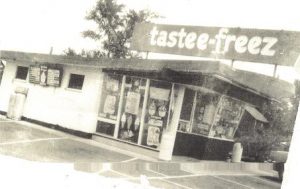 Leo Cassidy opened the "Tastee Freez" sometime in 1956, according to the limited records we've been able to find. He and his wife Grace ran both the ice cream shop and "Leo's Diner" which was located right behind the shop. Neither Leo nor his wife are with us anymore, but their small, family-oriented ice cream business still sits in the same building, serving Aquidneck Island families for over 50 years now. The name was changed to Frosty Freez at some point during their time, but we haven't been able to find out when; we are still actively seeking more historical information. The building has gone through quite a few changes, as has Middletown, but the family atmosphere remains.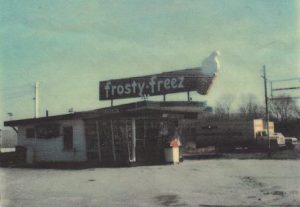 Ray and Solange Roppe purchased the business back in 1977, and ran both the ice cream shop and their clothing store "Ray's Fashions", located right behind Frosty Freez. The Roppe's daughter Martine took over the shop in 1990, and ran it with her husband Gary for the next 10 years. In June of 2000, my husband Mark and I became the 3rd family of "caretakers" of this little Middletown landmark. We feel very fortunate to continue the tradition of serving a fun treat to our small community. Lots of people love it for its old-fashioned simplicity and its continuity. And its ice cream, of course!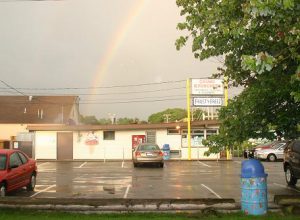 We'd like to take this opportunity to thank the Roppes for "showing us the ropes" in the ice cream business. Fast and friendly service, great product and affordable prices have created a great fan base over the years. We'll continue to do our best to keep things that way, while, of course, always looking for ways to make it even better!